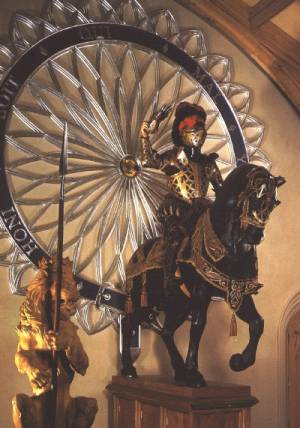 Welcome to Gene Seekers.

              When you are ready to proceed to our next page just click on the blue shield.

After forty years of research I have decided to offer my services to others in a manner that will allow anyone to, at least, start on their journey to days past and to learn about their families. In order to make this research possible, and affordable to everyone, we offer various degrees of research.

Our research allows you to begin with a few generations and then add more, including historical notes.

Sir Christopher Hatton, Lord Chancellor of England Court of Elizabeth I. Stands in Windsor Castle, England. His Armour 1585. Birth 1541-Died 1590.
Owned by H.M. Queen Elizabeth II.

Click on shield to proceed to the next page

for more information.


DNA testing is also available if paper records cannot be found, or if you are interested in your deep ancestral roots. We can tell where others of similar DNA live today and your ethnic origins. The cost through Gene Seekers is modest and gives you an ongoing opportunity to continue your research. This new tool is being used quite often today and is an exciting new way to search.

Gene Seekers has found families and siblings, long lost, and reunited families. In one case a woman turned to us after years of paying for professional research. We found her family in two days. In another case we were asked to search for one unknown sibling and discovered that there were three. This family has reunions each year and are in touch constantly.

If you are interested in Genealogy Classes email us at GeneSeekers. Classes will begin this summer. If you want us to contact by phone..include your phone number.
Scottish song-"Hatton Burn" also know as Cooleen Bridge and Tarbolton Reel. Another is Buchromb's Reel which is Hatton Reel. You can turn the music off if you wish. This midi was created by Mr. Davis in Canada. New Album is by Dougie MacLean.

For more Scottish, Irish, English and American Folk music click HERE.
From the new CD "Bonnie Woods O' Hatton".

Click on to play

Many Hattons were Knights Templar. The earliest I have found, at the moment, was Hatton de Salvanhac of the perceptory of Lacapelle-Livron in France 1268. He is listed as a Knight but likely was a monk as well. Meaning that he was Hatton of/from Salvanhac. Other records show the Hatton Monk in Scotland believed to have arrived before 1300 and another in Hereford, England.

The known head of the family arrived in Cheshire with William in 1066. He was a priest from Normandy, and his genealogy noted in Cheshire..

The parish town of Hatton is in Warwick, England.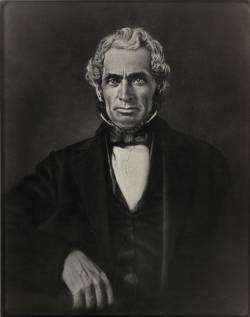 George Whitefield Potter 1806-1876

Copyright-Ernest A. Hatton

The Potter Family arrived in 1635 and were among the founders of New Haven CT. George Whitefield Potter and Camilla Bliss were my gggreat-grandparents. This line has five Revolutionary Soldiers and descends, as well, from Mayflower Passengers. Bliss-Rowley-Fuller

Daniel, the father of George, has on his marker, served seven years in the Revolution, forty-one years as a Deacon, felled by an arrow.....and more.

Songs like "Bonnie woods of O'Hatton and others are the foundation of our Country music and many have had new lyrics and changes. Bonnie Woods O'Hatton was just recorded again. There are other reels, jigs, ballads that you will find with this music which goes back to at least 1589. Hatton, for the most part, was a place name and the origin is not really known as the name is recorded as quite ancient. There are variations, but the root always seems to go back to the Vikings and Normans.

The French and Germans also claim the name.

The French would be Norman. The German stated as Knights who fought with William.

The Maitlands and Lauders also took the name but records indicate that they were descended from a Sir William Hatton about 200 years prior.

According to various records William named a son Lauder.

Later, about 200 years, Sir Charles Maitland took the name Lord Hatton in Scotland. Today, in 2005, more records are coming to light in the press in Scotland from Archeologists.

It was believed that the Maitlands just assumed the name from Hatton Castle, and the earlier Hattons, but it seems more likely that they may have been descended, or related as well.

Member: International Society of Genetic Genealogy

Our Hattons
lived in the
Royal Forest of Dean, England
.
I am interested in the origins of all the families from that location and the bordering counties of Wales.
If you are interested in taking part in my study you can do so through this Site. You can also join the National Geographic and IBM research study."if you wish" This study will be featured on the History Channel from time to time.
for Hatton type in Hatton de Salvanhac.

The Village of de Salvanhac is in France.